You have no idea how much PEMF can help... until you give it a try!
I really mean this… You have no idea how much PEMF can help until you give it a try! We have had countless clients inform us that issues they hadn't even remembered were issues have gone away with the use of regular PEMF
PEMF Therapy is a way to recharge every cell in your body so your cells are better able to absorb nutrients, excrete waste, and function optimally. The number one sign that your cells need energy medicine is pain. Pain and fatigue are your body's way of telling us "help me" — it's how your body gets your attention. Other signs include dis-ease, weakness, reduced function of any body part, and emotional imbalances.
Your body benefits from coming into direct contact with the earth's magnetic field — called Earthing and it is one of the many reasons people love walking on the beach barefoot. The ocean's salt water is an excellent conductor of energy that increases the transfer of energy from earth to body.
The earth's electromagnetic field (EMF) is safe and beneficial. However, modern technology like mobile phones, Wi-Fi, Bluetooth, computer screens, and high-tension wires produce a harmful EMF at an extreme level that bombards every cell in your body with detrimental energy.
Each cell in your body is like a battery, capable of holding only so much energy. Think of your cells like a mobile phone — over time they lose their charge and need to be recharged to function. There are various reasons your cells may not be generating or maintaining enough charge: physical injury, toxicity, scar tissue, inflammation, and poor nutrition are just some things that suck the life out of your cellular batteries.
The FDA started approving PEMF back in 1979 for bone loss (it was even used by NASA to support the astronauts when they returned to Earth). The FDA made additional approvals in 1987 for post-operative edema and pain, 2004 as an adjunct to cervical fusion surgery, and 2011 for depression.
Since every cell in your body needs to hold a charge, every cell in your body can benefit from PEMF. So if you are thinking… could PEMF help me with _______? Ask yourself does that _______  have cells… if so the answer is YES pemf therapy can help that!
Special Offer
If you're scheduling your first PEMF session with us, get three 1-hour Premium Pro Starter Pack sessions for just $250.
Many people with a variety of health challenges are discovering the fantastic results they can achieve with PEMF!
Pulse Spa is like a magic eraser for my pain. I can show up with a pain in my knee and leave with a skip in my step. I really didn't think it would be possible to have this kind of relief in one session.
I came to Pulse Spa for pain in my shoulder and to see if it could help my old injuries. After months and months of shoulder pain and only lifting half a pound maximum I saw a BIG improvement after my first treatment and it was never as sore again and gets better each time I come.
I was extremely pleased with the treatment that Rosemary applied to my Knee. I was having a lot of pain in my right knee that caused my knee to buckle when going down stairs. After two treatments on the PMEF I had no more pain. That was a year ago. Recently I felt slight ache in my knee so I went for another treatment and have had no discomfort since.
I have never been great at sleep. I toss and turn, I struggle to fall asleep, I struggle to stay asleep. I am now sleeping the best I have ever slept in my life and the only thing that changed was adding regular PEMF sessions.
I came to PEMF therapy with a reoccurring rotator cuff injury that was never fully healed. I no longer have any pain in my rotator cuff and the clicking in my shoulder has gone away.
I have known Rosemary for years. And so when I learned she was offering this PEMF treatment through Pulse Spa, I knew I had to try it. I have had chronic pain from a recurring rotator cuff injury (repetitive stress injury) for many years. I have done all of the things to heal and rectify it, from physio to accupuncture, to massage, to functional strength training and beyond. By the time I had my treatments with Pulse Spa, I really feel like I had tried everything and come to terms with the fact that I would simply always be in pain. And while it is certainly an ongoing journey, I can say that the series of PEMF treatments I had were the first and only thing that has supported lasting relief. For well over a month (whereas I'm lucky if massage or accupuncture helps for more than a few days), my pain had significantly decreased and it lasted. Hallelujah! I would highly recommend.
Discover what PEMF therapy can do for you.
Book an appointment now!
PEMF Therapy Options
We provide two PEMF therapies to choose from:
Premium Pro Starter Pack
Pro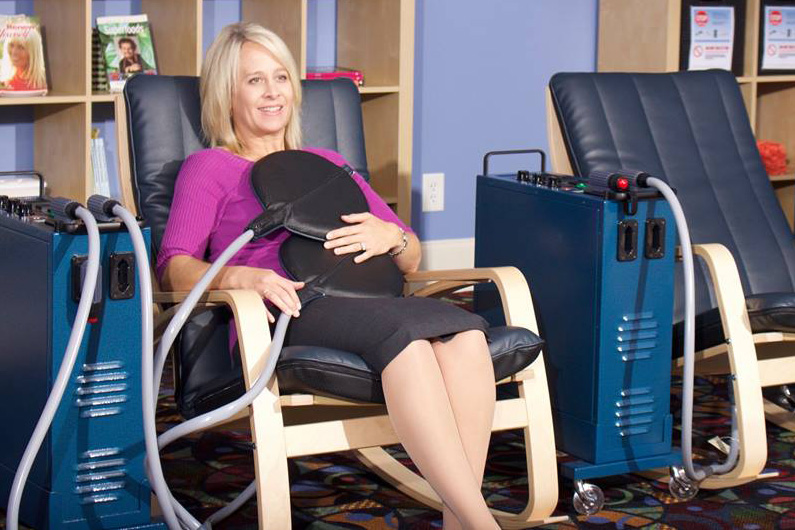 We believe that you need to experience PEMF to know and feel the benefits. Because of this we created a ridiculously great priced starter pack that we highly recommend you take advantage of while it is still available.
If this is your first PEMF therapy session, start with our 3-hour Premium Pro Starter Pack. Package includes three 1-hour appointments and orientation. Based on your case and how you respond to the therapy, we will suggest the package or membership option that is tailored to your wellness goals.


After your new client 3-hour Premium Pro Starter Pack appointments, you may select from the following Pro packages.
Frequently Asked Questions
Most frequent questions and answers
Don't take our word for it... check out the science behind PEMF!